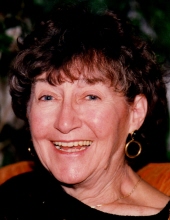 Obituary for Elizabeth Louise Bunnelle
Elizabeth L. "Bette" Bunnelle was born on July 19, 1925 in Chicago. She grew up on a tree-lined street in the Irving Park neighborhood with her parents Josephine (Berger) and George Utter, her sisters Pat and Carole and brother Jim. As a child, Bette spent summers with her cousins on their farm in East Troy, WI; she reminisced about these idyllic days all her life. Bette died Monday, May 13, 2019 in her home in Arlington Heights.

Bette loved her career as an executive secretary. She met her husband Harold "Pete" Bunnelle while both worked in the Purchasing Department at Pure Oil Corp; they married on September 1, 1951 and moved to the suburbs soon after. After rearing their six children in Arlington Heights, Bette worked for several businesses in the area, including Northwest Community Hospital, Kennedy Bros Construction, and AM International. She was a member of St. James Catholic Church in Arlington Heights and active in the Wheeling Township Republicans until moving to her dream home at Swift Lake, WI in 1990. At Swift Lake, her days included long walks with her German shepherd, bird-watching, cross-country skiing in the woods, golf, and entertaining friends and family. She was a member of St. Peter the Apostle Church in East Troy where she reconnected with many of her childhood friends. She enjoyed reading and is remembered by her friends at Church Creek as always having a book in her lap.

Bette is survived by her children Toni (Tom) Flanagan, Paul (Patricia) Bunnelle, Bill (Leslie) Bunnelle, Thomas (Ranae) Bunnelle, and Kristen Albright; grandchildren Tom (Erin) Flanagan, Michael (Peyton) Flanagan, Elizabeth Flanagan, John Flanagan, Christopher (Debra) Bryant, Tyler (Katherine) Bunnelle, Travis (Kristyn) Bunnelle, Kimberly (Eric) Lank, Jonna (Patrick) Wagner, Kerri Bunnelle, Eric (Yoko) Bunnelle, Kurt Bunnelle, Hillary Bunnelle, Kyle Bunnelle, Jessica Bunnelle, Lindsay Albright and Jack Albright; great-grandchildren Lucia Flanagan, Ophelia Flanagan, Phillipa Flanagan, Amory Flanagan, Samuel Bryant, Gabriella Bryant, Kinsley Bunnelle, Gianna Bunnelle, Julian Bunnelle, McKenzie Lank, Mya Lank, Keyon Wagner, Evelyn Wagner, Layla Nitschke, Hiroto Bunnelle and Kazuki Bunnelle; sister Carole Busch; brother-in-law Martin Byrne; and many nieces and nephews. She was dearly loved!

Bette was preceded in death by her husband Pete Bunnelle; daughter Ginger Bunnelle; great-grandson Emmanuel Flanagan; siblings, Patricia Byrne and James Utter; sister-in-law Dixie; and her parents.
Memorial Visitation is Thursday, May 23, 2019 from 9:00 am until the 10:00 am Funeral Mass at St. James Catholic Church, 831 N. Arlington Heights Rd., Arlington Heights, IL 60004. Interment is private.

In lieu of flowers memorials may be given to St. Jude Children's Research Hospital at www.stjude.org. Funeral Information and condolences can be given at www.GlueckertFuneralHome.com or (847) 253-0168.
Previous Events
Memorial Visitation
St. James Catholic Church
831 N. Arlington Heights Rd.
Arlington Heights, IL 60004
Memorial Mass
St. James Catholic Church
831 N. Arlington Heights Rd.
Arlington Heights, IL 60004
Memorial Contribution