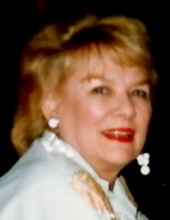 Obituary for Sylvia Maryann Hansen
Sylvia M. Hansen was born on July 3, 1934 in Chicago to Arthur and Katherine (nee Hausberger) Speetzen. She died Friday, November 17, 2017 in Prospect Heights.

She loved to travel, read, work on crossword puzzles, cooking and especially socializing with her life-long friends. Sylvia's true passion and dedication was to her husband, her children, her grandchildren and great-grandchildren.

Sylvia is survived by her husband of 61 years, Richard T. Hansen; children, Richard A. (Gigi) Hansen, Lisa (Bradley) Embrey and Christian (Marie) Hansen; grandchildren, Alyssa (James) Carlson, Alexandra Betczynski, Christian Hansen, Kaden Embrey and Evan Hansen; great-grandchildren, Christian and Cecilia Carlson; brother, Arthur (Patricia) Speetzen; and many nieces and nephews.

She was preceded in death by her parents.

Services and Interment are private.

Funeral Information and condolences can be given at www.GlueckertFH.com or (847) 253-0168.