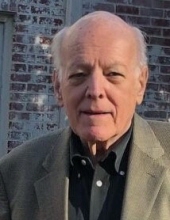 Obituary for Robert B. Lalley
Robert B. Lalley passed away peacefully on August 11, 2019 in Arlington Heights, Illinois after a brief battle with cancer.  Bob is survived by his wife of 54 years, Ann (Winterer), his son, Mark and his wife Suzy of Milton, Massachusetts, his daughter Kate Hall and her husband Blake of Houston, Texas and his three grandchildren Win, Veronique and Fritz.  Bob also leaves behind his two brothers Frank Lalley of New York City and Ed Lalley of Philadelphia. He is preceded in death by his parents, Francis and Margaret (Klein). 

Born in Philadelphia on June 2, 1937, Bob is a graduate of St. Joseph's Preparatory School and St. Joseph's University.  Upon graduation from St. Joe's in 1959, Bob joined Arthur Andersen & Company eventually being admitted to the partnership in their tax practice where he stayed until 1988.  At that time, Bob moved into a successful second career in law firm administration, working in senior roles in several international law firms including Debevoise & Plimpton and Morgan, Lewis and Bochius. In retirement, Bob maintained a small consultancy, advising on executive searches pertaining to the legal profession. 

Bob's life, character and personality were very much shaped not only by his native Philadelphia but also by the many places he and Ann called home over their long and loving marriage.  In no small part was Bob's passion for history, specifically American history informed by being a proud son of The Birthplace of America. The City of Brotherly Love also played a role in Bob's lifelong devotion and care of friends including his deep and abiding friendships with those he had known since his days at St. Joe's Prep and St. Joe's University.  Moving to Omaha, Nebraska in 1975 and then Chicago in 1981, Bob found fertile ground for his out sized warmth and generosity of spirit in the hospitality and friendliness which characterizes the people of America's mid-west. Another career move in the late eighties would take he and Ann to New York City where the Big Apple kept pace with Bob's marked intellectual curiosity, his love of art and culture as well as his appetite for lovely restaurants and wonderful meals!  Later, Ann and Bob would make their way back to Philly and finally on to Chicago where Bob was able to spend many years close to his grandchildren. During those years, Bob often found yet another home on the soccer fields, baseball diamonds, mock trial tournaments, performing art spaces, school auditoriums and a myriad of other venues where his grandchildren were competing and performing. There could be no louder cheers or heartier applause than that which came from their beloved "Pops". It was his and Ann's ability to not only maintain but also deepen friendships and family ties while leaving one address for another that is truly remarkable.  


A memorial mass celebrating Bob's life will be held on September 28 at 10:00 am in St. James Church in Arlington Heights, Illinois.  In lieu of flowers, the family asks that donations be made to St. Joseph's Preparatory School, 1733 W. Girard Avenue, Philadelphia PA 19121 or by donating online at sjprep.org and using the prompt under Support the Prep.
Previous Events
Funeral Mass
St. James Catholic Church
831 N. Arlington Heights Rd.
Arlington Heights, IL 60004
Memorial Contribution