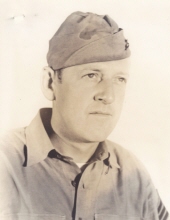 Obituary for Harry A. Carlsen
Horace (Bud) Carlsen was born on January 4, 1912 in Brookfield to James and Amalia (nee Mehalek) Carlsen. He died on November 20, 1943 during the Battle of Tarawa in the Pacific during WWII. 

Bud came from a large family of 4 sisters and two brothers.  Through the 1930's, Bud worked as an auto mechanic for Mahoney & Sirvotka in Cicero.  He was married to Jarmila Fisera from 1933 to 1941.  He enlisted in the Marine Reserves in December of 1941.  He rose to the rank of Technical Sergeant and served as the Quartermaster Maintenance Chief for Company A of the 2nd Marine Divisions' 2nd Amphibious Tractor Battalion. From August through December of 1942, he participated in landing assaults against several strongly defended enemy positions in the South Pacific including Tulagi, Gavutu, Tanambogo, Florida, and Guadalcanal, British Solomon Islands. In November of 1943, he was among the first troops to assault the heavily fortified enemy defenses of Betio Island Red Beach One, Tarawa Atoll, Gilbert Islands as part of an advance team whose mission was to establish a headquarters for tractor battalion operations.

Bud was one of 550 Marines killed in the battle whose remains were not identified or recovered.  Dog tags were removed, gravesites obliterated, and records lost. In 1946 his unidentified remains were moved to Hawaii's Schofield Mausoleum. 1949 his remains were reinterred at the National Memorial Cemetery of the Pacific at Hawaii's Punchbowl in grave E1212.  Due to extensive research by William Niven, Rick Stone (Chief Rick Stone and Family Foundation), and Mark Noah (History Flight), the search for Bud focused on grave E1212.  Work by Nancy Spellman, Bud's niece, and great nephew Ed Spellman, led to the exhumation of E1212 and the conclusive identification of Bud in June 2018. 

Bud is survived by his nieces and nephews: Barbara Rapp, James Goodman, Richard Goodman, Jane Hilmer, and many great nieces and nephews.

Visitation Friday, October 12, 2018 from 5:00 pm until 8:00 pm at Glueckert Funeral Home, Ltd., 1520 North Arlington Heights Road (4 blocks south of Palatine Road), Arlington Heights, IL  60004.  An 11:00 am, Saturday, October 13, 2018 Committal Service will be held at Abraham Lincoln National Cemetery, Elwood, IL.

In lieu of flowers, memorial may be donated to non-profit organizations working to locate and identify the remaining lost Tarawa Marines. Funeral Information and condolences can be given at www.GlueckertFuneralHome.com or (847) 253-0168.
Previous Events
Visitation
Glueckert Funeral Home, Ltd.
1520 N. Arlington Heights Road
Arlington Heights, IL 60004
Graveside Service
Abraham Lincoln National Cemetery
27034 S. Diagonal Road
Elwood, IL 60421
Cemetery Details
Location
Abraham Lincoln National Cemetery
27034 S. Diagonal Road
Elwood, IL 60421