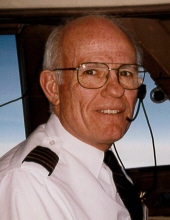 Obituary for Brent Parker Mayo
Brent P. Mayo

Brent Parker Mayo, 80, of Arlington Heights, passed away on September 27 at The Moorings, Arlington Heights. Born in Wichita, Kansas, son of VirDen and Katherine Mayo, Brent spent his growing up years in Wichita, graduating in 1956 from East High School. He graduated with a B.S. degree from Carnegie Mellon University in 1960.

While at Carnegie Mellon, he was in the R.O.T.C. program which enabled him to learn to fly at the Army's expense. He was in the regular Army for 3 years, stationed in Germany. After his active duty was over, he was hired by United Airlines and began flying the DC-6 and finishing his 34-year career flying the 747-400. Brent spent his entire flying career based in Chicago where he was Chief Pilot in Chicago for 10 years before he retired.

He was married to Patricia Murray Mayo for 54 years. Their children,Scott, (Leslie) and Susan(Jim) Zepka and the grandfather of 4 children(Lauren and Ryan Mayo and Kiera and Trevor Zepka) He is also survived by sister, Melinda Finley.

Brent enjoyed traveling with his family but undoubtedly his favorite place was Rocky Mountain National Park in Colorado where his family spent many summers to escape the Kansas heat. Brent, his children, and 2 of his grandchildren all spent part of their summers at Cheley Colorado Camps in Estes Park. Brent and his son excelled at hiking and climbing and were proud to say they climbed Long's Peak at over 14,000 feet.

A 34-year part time resident of Williams Bay, Wisconsin, Brent was a member of the board at Cedar Point Park for many years and was a member of the Lake Geneva Keel Boat Club. Back in Arlington Heights, he was on board of United Way, enjoyed playing golf with the Tuesday neighborhood group, was a member of a book and stock club, and also was a member and Elder at Southminister Presbyterian Church in Arlington Heights.

A memorial service will be held at Southminster Presbyterian Church, 916 E. Central Road, Arlington Heights on Saturday, October 12 at 11:00. Visitation will be at 10. A lunch will be served at the church following the service. Funeral Information and condolences www.GlueckertFuneralHome.com
or (847) 253-0168.
Previous Events
Memorial Visitation
Southminster Presbyterian Church
916 E. Central Road
Arlington Heights, IL 60005
Memorial Service
Southminster Presbyterian Church
916 E. Central Road
Arlington Heights, IL 60005