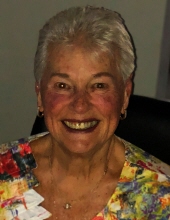 Obituary for Ruthann H. Normann
Ruthann Hallett Normann
of Arlington Heights

Born: July 16, 1938, in Sterling, Illinois.
Died: September 19, 2019 in Arlington Heights, Illinois.

Visitation will be at Glueckert Funeral Home on Friday, Sept 27 from 3:00PM until 8:00PM. A memorial visitation will be held at The First Presbyterian Church of Arlington Hts. from 10:00AM until 11:00AM with Memorial Service following.

Mrs. Normann moved from Sterling, Illinois when she was five, raised in Chicago until she graduated from college and then relocated to Arlington Heights. She graduated from Amundsen High School in 1958 and attended Davis and Elkins College in Elkins, West Virginia, graduating in 1961 with a B.S. in Physical Education. She was a member of Chi Omega Sorority, an elected class officer and Tau Kappa Epsilon Sweetheart. Her senior year, she reigned as the schools Homecoming Queen and was selected as an Outstanding Young Woman of America. She received her M.A. in Education from St. Xavier University in 1992.

During her younger years, she was a professional baton twirling instructor and a nationally acclaimed judge. She also won many medals and trophies during her years as a baton twirling competitor. In July of 2004, she was inducted into the National Baton Twirling Hall of Fame at Notre Dame University.

Her first year of teaching was at West Aurora High School, followed by 36 years at Prospect High School in District 214 as a Physical Education Teacher. At Prospect, she formed the Rhythmettes, the first Pom-pon squad in the mid-west. Through the years, the Rhythmettes consisted of baton twirlers, pom-pons, flags, rifles, sabres, various props and intricate drills. The Rhythmettes were a vital part of the prestigious Marching Blue Knights. One of her favorite highlights was having her Rhythmettes and Marching Blue Knights selected to perform in the Tournament of Roses Parade in 1986. The Rhythmettes also did basketball half time shows, parades, and numerous special performances. Mrs. Normann nurtured over 3000 young woman through this outstanding group. Many remain as her friends today. While in charge of this group, she was honored by her students with a 25-year reunion. Over 200 past Rhythmettes attended from all over the U.S. At her retirement party in 1996, many of her past students, and their parents, along with her many friends and co-workers, honored her. Mrs. Normann also formed the booster club, Friends of Rhythmettes, which assisted her in all phases of fund raising, sewing, travel and making the Rhythmettes as successful as they were. She truly loved these two organizations and the time she dedicated to them was extraordinary. She was so proud to be a part of them.

Another highlight at Prospect High School, was coaching Badminton for 18 years. She had great success with her teams and they qualified every year for the state meet. She claimed 2 state trophies: 1985 2nd place and 1990 3rd place. In 1994 she was named "Coach of the Year" by the IHSA. Again, she remains friends with many of her players and parents.

Mrs. Normann dedicated herself not only to her Physical Education classes but was extremely active with extra curricular activities. She was chairperson for Knightimes Homecoming Coronation, sponsored the Freshman and Junior Classes, Prom, Turnabout Dance, and Student Council.

District 214 honored Mrs. Normann with the Principal's Award of Educational Excellence in 1990 for "demonstrating a work and caring attitude toward staff and students." In 1995 the district recognized her again for her Outstanding Contribution to Education. She was selected by the students as a "favorite teacher."

After retirement, she became the coordinator of the "Best of 214" annual luncheon for the 214 Retirees' Association for 18 years. She remained active as an Executive Board Member.

Ruthann's greatest passion was her family and friends. She was married to her best friend, Donald Emil Normann, for 50 years. Her husband took great interest in all of her school activities, often chaperoning many of the school trips and events with her. When their children were young, they were involved with Scouting and Little League as Co-Chairmen. They were always there to support their kids and the teams they played on. Ruthann and Don shared delivering "meals on wheels", volunteering at Shelter, Inc. and the Arlington Senior Center, golfing, swimming, making cut glass stepping stones, and traveled extensively. She was a member and volunteer at the First Presbyterian Church of Arlington since she moved to Arlington. Her family was her life.

Ruthann was a devoted loving wife and mother. She adored her children, Grant and Brooke, and took them with her to every school function she was involved in. Many of her students found her to be a role model. She was preceded in death by her best friend and adoring husband, Donald, her beautiful loving daughter, Brooke Traci Normann; father, William E. Hallett, and mother, Margaret (Schuldt) Hallett. Surviving her is her wonderful son and daughter-in-law, Grant and Shelley Normann of Anderson, Indiana; dear Brother Jim Hallett of Arlington Heights, Sister-in-law Barbara(Jim) Cimbura of Colorado; Granddaughter, Jessica (Kory) Crawford; her precious great grandson, Konnor James Crawford and great granddaughter, Kamryn Olivia Crawford; nieces, nephews, cousins, and many close friends. She served as a mother figure to many.

In lieu of flowers, please make donations, in Ruthann's name to:
Revelation Golf, PO Box 91831, Elk Grove, Illinois 60009.
For additional info: www.revelationgolf.org <http://www.revelationgolf.org> or 630-253-7703.
This organization enables our wounded Veterans to learn and play the wonderful
game of golf as a therapeutic tool.
Previous Events
Visitation
Glueckert Funeral Home Ltd.
1520 N. Arlington Heights Road
Arlington Heights, IL 60004-3906
Visitation
First Presbyterian Church of Arlington Heights
302 N. Dunton
Arlington Heights, IL 60004
Funeral Service
First Presbyterian Church of Arlington Heights
302 N. Dunton
Arlington Heights, IL 60004
Memorial Contribution