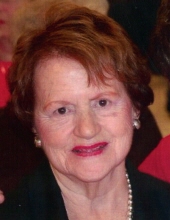 Obituary for Patricia Ann Julian
Patricia Ann Julian
Of Barrington, formerly of Arlington Heights

Patricia Ann Powell Julian was born February 7, 1934 in Balgey, MN. She went to be with the Lord on May 7, 2018 in Barrington, IL. Along the way, "Pat" experienced a great many fun times, endured setbacks and brought love and joy to countless.

As the daughter of a career Navy man, she lived all over the country - from northern Minnesota to the Shenadoah Valley, San Diego, Pensacola, Great Lakes Naval Station, Jackson, Mississippi and finally to the suburbs of Chicago.

Pat married Frank Peter Pascente on February 4, 1956. Marriage was soon followed by the births of two daughters. Frank died at the age of 29, leaving Pat a young widow with two young children. She survived that experience through the help of faithful friends and faith in God. She married John Nicholas "Nick" Julian, Jr. on December 19, 1964 in Jackson, Mississippi. The birth of their son followed in 1966. She and Nick moved with their family in 1970 to Arlington Heights. There, they spent the last 47 years of her life as active members of the community and members of the Orchard Evangelical Free Church.

Pat was a dedicated mother, loving wife, doting grandmother, supportive aunt and a loyal friend. She was strong-willed with a zest for life and for living. The fact that she persevered in spite of heartache and persistent health problems later in life has been an inspiration and source of strength for many.

Pat was creative. She taught those around her that if they couldn't find what they were looking for or they were unable to afford it, then they should make it themselves. She was a pioneer in the art of 18th century découpage, teaching the art and selling supplies in a successful shop. Pat was also a talented seamstress who enjoyed sewing furnishings for the home and clothing for her family. She also enjoyed intricate stenciling and extensive gardening.

As an eager hostess and gifted cook, Pat's hospitality and culinary ability seemed to know no bounds. As a result of her passion for entertaining large crowds, she became a collector of cookbooks, china, crystal, silver and linens.

Friends and family might describe Pat as innovative and tenacious. She started work at Motorola in 1973 and worked her way from the factory line up to the position of senior buyer in the purchasing department. She retired from Motorola after 25 years and then started enjoying winters in Naples, FL.

In the early 1980s, Pat and her friends worked tirelessly to save Arlington High School from closing. They raised money to wage a campaign for seats on the school board and initiate litigation against the closing.

While you could always count on Pat for an honest opinion, she had a tender heart for all those she met and anyone in need. In 2006, she took her grandson on a trip to the Gulf coast, where he helped clear houses for victims of Hurricane Katrina and Pat did what she liked most - she cooked for large crowds by feeding the work crews.

Pat was raised in Christian churches and held her faith high. She was a loving servant of the Lord, her faith never faltered, and she basked in His love in every waking moment of her life. She is with Him now and will be desperately missed by those she leaves behind.

She is survived by her husband John Julian; her children Michelle Druhot, Joy (Keith) Weir and John (Lynda) Julian; her grandchildren Alfred Willis, Julia (Daniel) Helewski, Michael Weir, Kevin Weir, Jack Julian, Kathryn Julian and Hannah Julian and her great-granddaughter Audrina; her siblings Richard (Susan) Powell and Constance (John) Tow; she was the aunt to Laurel (Keith) Carson, Nephew, Edward "Gene" (Debbie) Foster, Nephew, Jeffery (Patricia) Foster, Nephew, Gregory (Cassandra) Foster, Nephew, Dirk (Elizabeth) Moore, Nephew, Christian (Lynette) Moore, Niece, Carolyn Diskey and Richard (Fiancee Kelly O'Brien) Powell and many great nieces and nephews.

She was preceded in death by her parents, sisters Shirley Foster and Beverlee Moore, her niece Michan Milligan and nephew Michael Moore.

Visitation Thursday, May 10, 2018 from 3:00 pm until 8:00 pm at Glueckert Funeral Home Ltd., 1520 North Arlington Heights Road, (4 blocks south of Palatine Rd.) Arlington Heights, IL 60004 and on Friday, May 11, 2018 from 10:00 am until time of Funeral Service 11:00 am at Orchard Evangelical Free Church 1330 N. Douglas Ave., Arlington Heights. 

In lieu of flowers, memorials may be given to Orchard Evangelical Free Church 1330 N. Douglas Ave., Arlington Heights, IL, 60004 https://theorchardefc.org/arlington-heights.

Funeral Information and condolences can be given at www.GlueckertFuneralHome.com or (847) 253-0168.
Previous Events
Visitation
Glueckert Funeral Home, Ltd.
1520 N. Arlington Heights Road
Arlington Heights, IL 60004
Funeral Service
Orchard Evangelical Free Church
1330 N. Douglas Ave.
Arlington Heights, IL 60004
Visitation
Orchard Evangelical Free Church
1330 N. Douglas Ave.
Arlington Heights, IL 60004
Memorial Contribution
Orchard Evangelical Free Church
1330 North Douglas Avenue
Arlington Heights, Illinois 60004