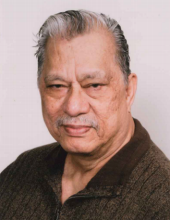 Obituary for Rafael Aguila Llorente
Rafael Aguila Llorente Jr.
Of Arlington Heights

Rafael Aguila Llorente Jr. was born on January 22, 1937 in Manila, Philippines to Rafael and Esperanza (nee Aguila). He was surrounded by loved ones and died peacefully on Thursday, April 26, 2018 at his home in Arlington Heights, Illinois.

Mr. Llorente was a gregarious man and larger than life. You only had to meet him once and he left a lasting impression. He was a devoted husband, loving father, adoring grandfather, and a talented singer. Rafael would spontaneously burst into song at restaurants and was very sought after for his rich, Frank Sinatra-esque, baritone voice at Filipino dinner dances and parties. He and his wife would liven up the dance floor, whether it was the salsa, cha cha, or disco.

Rafael was a charismatic, warm-hearted man who would strike up a conversation and use his sense of humor to simultaneously charm and disarm you. Rafael spoke his mind telling his children, nieces, and nephews to: "Hit first, hit hard, run fast." Advice that highlighted his love of basketball and passion for boxing.

Mr. Llorente earned a Bachelor of Science in Commerce and Business Administration from Adamson University. He was a self-taught electrician and was in charge of the audiovisual system in his family owned theaters in Manila. After immigrating to the United States in 1969, Rafael worked in the electronic and computer field. He retired in 2010 from Guarantee Trust Life Insurance Company.

Rafael is survived by his wife of 37 years Loretta A. (nee Oliva); his children Cristina (Michael Reimer) Higgins, Josephine A. (David) Boggs, Rafael (Heather) Llorente III, Natalie (Hussein Mahmoud) Llorente and Stella (Tareq Abu Ghalyoun) Llorente; his grandchildren Sinko Stewart Higgins, Cris Higgins, Carson Llorente, Carter Llorente, Emersyn Llorente, Orlando Godinez, Oscar Godinez, Ezequiel Godinez and Elias Abu Ghalyon and great-grandchild Gavin Higgins; his siblings Cristina (Edward) Drost, Lina (Late Edmundo) Angeles, Dr. Lourdes Llorente, Rolando (Tita) Llorente, Margarita (Jose "Toti") Cobarrubias ; also survived by many nieces and nephews.

He was preceded in death by his parents, his sister, Diana (Paul) O'Malley, Twin Brother Ernesto (Anelia) Llorente.

Visitation Saturday, May 5, 2018 from 12:00 pm until time of Funeral Service at 5:00 pm at Glueckert Funeral Home Ltd., 1520 North Arlington Heights Road, (4 blocks south of Palatine Rd.), Arlington Heights, IL 60004.

Funeral Information and condolences can be given at www.GlueckertFuneralHome.com or (847) 253-0168.
Previous Events
Visitation
Glueckert Funeral Home, Ltd.
1520 N. Arlington Heights Road
Arlington Heights, IL 60004
Funeral Service
Glueckert Funeral Home, Ltd.
1520 N. Arlington Heights Road
Arlington Heights, IL 60004