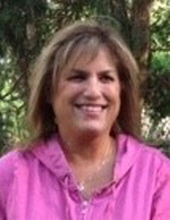 Obituary for Marcia A. Veraldi
Marcia A. Veraldi
Of Arlington Heights

Marcia A. Veraldi was born on November 13, 1957 in Detroit, Michigan to Lewis C. Veraldi and Irene V. Veraldi. She died peacefully of complications from diabetes and cardiovascular disease on Sunday, April 1, 2018, in Arlington Heights, Illinois.

Marcia was an artist with a fierce love for her family and a contagious sense of humor. We will miss her smile, sparkling eyes, and loving spirit. She was exceedingly loyal to those she loved, and especially all the children in her life. She will be missed by all who knew her. Heaven gained an amazing angel.

Marcia is survived by her mother, Irene; her children, Lisa Phillips and Julie Fruciano; brothers Bill Veraldi and Joe Veraldi, sisters Lisa Lazar, Carla Wilson and Crissy Klostermeyer; 15 nieces and nephews; one grand nephew, and one grand niece on the way.

She was preceded in death by her father, Lewis.

Per Marcia's wishes, private family services have been held.

In lieu of flowers, donations may be made to a charity of your choice.

Condolences can be given at www.GlueckertFuneralHome.com <http://www.GlueckertFuneralHome.com>.
Memorial Contribution