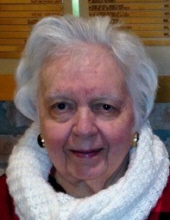 Obituary for Mary Plavac
Mary Plavac was born on January 28, 1928 in Cleveland, OH to Daniel and Mary Sajatovic. She died Thursday, March 8, 2018 in LaGrange Park, IL.

In life, Mary was a devout Catholic, a loving mother and grandmother and a skillful, passionate cook. A tradition passed down from her Croatian mother, Mary took great pleasure in spoiling her loved ones with home-cooked family recipes, from traditional Croatian dessert breads to American thanksgiving classics. Ever the talented homemaker, Mary also tended to her garden meticulously, turning the front yard of her home into a beautiful landscape straight out of Better Homes and Gardens. While raising three children with her husband, George, Mary worked as a secretary for Huntington Bank in Cleveland, OH for more than 30 years. She was also an active member of St. Paul Croatian Church in Cleveland, where she dedicated much of her life to following Christ's teachings.

But more than her poticas, her red geraniums or her active participation in the Church, Mary is remembered as a gifted pianist. She began practicing at the age of seven and was eventually offered a scholarship to college for her masterful and animated playing. Piano was something Mary enjoyed her entire life. Something she passed on to her children and grandchildren. Something so deep in her soul she barely had to open her eyes to play, as the music beamed straight from her heart to her fingers. And even towards the end of her time when words began to fail her, Mary spoke through music.

Mary is survived by her loving husband of 70 years, George, (married at St. Nicholas Church in Cleveland, OH on July 10, 1948); children, Susan (Terry) Heidkamp, Thomas Plavac and Marianne (Bob) Sweeney; grandmother to 11; great-grandmother to nine; and many nieces and nephews.

She was preceded in death by her parents; and siblings, Jenny (Bob) Dobrowski and Ann (Nick) Latkovic.

A Memorial Mass will be held at a later date in Cleveland, OH. Interment was private. In lieu of flowers, memorials may be donated to the following charity:

Sisters of Saint Francis of Christ the King
Mount Assisi Convent
13900 Main St
Lemont, IL 60439


Funeral Information and condolences can be given at www.GlueckertFuneralHome.com or (847) 253-0168.
Memorial Contribution
Sisters of Saint Francis of Christ the King
Mount Assisi Convent 13900 Main Street Lemont, IL 60439