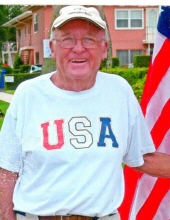 Obituary for Nick Wingert
Nick Wingert
Of Naples

Florida Nick Wingert, recently of Arlington Heights, was born on March 21, 1926 in Chicago, Illinois to Adam and Elizabeth (nee Leinholdt) Wingert. He died Friday, March 2, 2018 at Lutheran Home & Services, Arlington Heights. 

Mr. Wingert worked in various positions for Tempel Steel for over 30 years, and he served in the Army during WWII.  

Nick is survived by his wife, Mary Lou nee Lux; his children, Paul (Marta) Wingert, Patti (Brian) Kelly, Kim (Chuck) Ponicki, LuAnn (Hunter) Luke, and Brian C. Wingert; his grandchildren, Daniel (Maggie), Laura, Jack, Nicholas (Maggie), Meredith, Elizabeth, Madeline, Dawson, Griffin, Mary, Theresa, Frances, Lynn (Matt), Brandon, Darrin, Kaitlin and his great-grandchildren Violetta, Robyn, Charlie and Sophie, and his nephew, Michael (Jane) Mielenz. 

He was preceded in death by his parents and his sister Margaret (Larry) Mielenz.  Funeral Mass and interment Private. 

In lieu of flowers memorials may be given to Catholic Charities, 721 N. LaSalle, Chicago, IL, 60654.