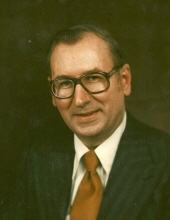 Obituary for Robert David Misch
Robert D. Misch
Of Arlington Heights

Robert David Misch was born March 5, 1925 in Hammond, Indiana to William J. and Wanda (nee Zitz) Misch. He died February 28, 2018 at the Lutheran Home in Arlington Heights.

In1927 his family moved to an address in Whiting, Indiana. He attended Sacred Heart Grade School there graduating from the 8th Grade in 1938. He went on to High School at George Rogers Clark and graduated in 1942. He received a scholarship to study at Illinois Institute of Technology and commuted to the campus in Chicago by public transit from his home in Indiana. While willing to serve in the military, he was rejected due to a heart condition. During the Wartime emergency classes continued year-round with no summer vacations and Robert succeeded in completing his studies for a B.S. degree in Chemistry in 3 years graduating in 1945. With the aid of fellowships from IIT he continued his studies there completing his master's degree in chemistry in 1947 and a PhD in Chemistry in 1950 with a thesis on Corrosion. That thesis helped him win an award of $1000 which was given to young chemists in the US and Canada with the best PhD theses by The International Union of Pure and Applied Chemistry.

After completing his education, he was hired by The Argonne National Laboratory.

Although known primarily for its nuclear energy work, the laboratory also did basic research in physics and chemistry. Robert continued his research work in chemistry and he was there in the early 1960s when laboratory chemists opened up a new field of chemical bonding research. Due to the radiation danger from the nuclear energy work, all employees were mandated to take one month vacations each year. Robert took advantage of that to travel to Western Europe several times in the 1950s. In 1957 he purchased a Porsche coupe at the factory in Germany, which he drove in Europe. He then had it shipped back to the United States where he enjoyed driving it for several years.

After about 12 years at The Argonne National Laboratory, Robert took some time off to explore other types of work. He decided to find practical uses for some of the research he had been involved in and with the aid of other chemists he helped start several small companies in Chicago. The first was Molecular Bonding Treatment (MBT) Corporation which developed a silicon coating for dental implants and plastic contact lenses. He applied for and received two patents for his work. The coating processes, however, required very precise techniques of application that proved very difficult to do on a large commercial basis. His great success came with Litho Research LTD that provided special cleaning and dampening solutions to the printing industry along with various testers, plate restorers to correct corrosion and applicators. Robert and his widowed mother moved to Arlington Heights in 1976.

After selling his business and retiring in 1990, Robert continued his interests in languages, Russian and German, and multiple hobbies. Generous with donations to many different causes, he also freely shared his knowledge with others about economic and health issues. He loved to read widely and always had suggestions on how to improve one's health. He continued to provide care and loving support for his mother so that she could live at home with him until her death at 95 in 1990.

Robert served as a Eucharistic Minister at St. James Church in the 1990s for about fifteen years. He visited the Manor Care Nursing Home on a regular schedule and received several awards including Volunteer of the Year.

Robert is survived by his siblings Marion (late Francis) Sheppard, Edward (Mary) Misch; and nephew, William (Michele) Sheppard and by many other nieces and nephews.

He is preceded in death by his siblings Bernard (Elizabeth) Misch and Florence (late Eugene) Dymek and by his parents.

Visitation 9:00 AM, Wednesday, March 7, 2018 at St. Cecilia Catholic Church, 700 S. Meier Road, Mount Prospect until the time of mass at 10:00 AM. Entombment All Saints Cemetery. In lieu of flowers, memorial contributions may be given to Our Lady of the Wayside Catholic Church, 440 S. Mitchel Ave., Arlington Heights, IL 60005

Funeral information and condolences www.GlueckertFH.com <http://www.glueckertfh.com/> or (847) 253-0168.
Previous Events
Visitation
St. Cecilia Catholic Church
700 S. Meier Road
Mount Prospect, IL 60056
Closed Casket
Mass
St. Cecilia Catholic Church
700 S. Meier Road
Mount Prospect, IL 60056
Cemetery Details
Location
All Saints Cemetery
700 N. River Road
Des Plaines, IL 60016