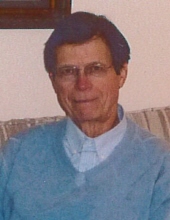 Obituary for Dale T. Clausing
Dale T. Clausing
Of Arlington Heights  

Dale T. Clausing of Arlington Heights was born April 4, 1938 in Palatine to Theodore and Edna (nee Eineke) Clausing.  He passed away February 28, 2018 at Northwest Community Hospital in Arlington Heights after a short illness.  

His life was marked by his deep love of the game of golf.  Some of his most favorite memories was of the Annual Golf Outing in Peoria, IL that he attended with friends.  He attended St. Peter Lutheran School and Arlington High School.  He was a member of St. Peter Lutheran Church his entire life.  After graduating from Arlington High, Dale received his college degree from Milwaukee School of Engineering.   Dale was drafted soon after graduation from MSOE and served in the US Army for two years.  He was stationed near Washington DC and also in Maui, Hawaii.  He served with the Army Map Service during that period. After his discharge, he enjoyed a challenging career in the field of electrical engineering and quality control.  He worked for several companies, including Kleinschmidt, Recon Optical and most recently, DuAll Precision.   

Dale is survived by his brothers Robert (Carol) and Neal (Sharon) and four nieces/nephews and by two friends from Tampa, Florida, Kara and Passia.   

A private family service was held on Saturday, March 3, 2018 at Glueckert Funeral Home.  Interment private.    

In lieu of flowers, memorial contributions may be given to St. Peter Lutheran School's Scholarship Program.