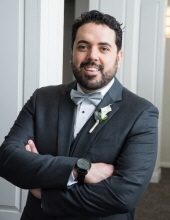 Obituary for Silas Souza Pinto
Silas Souza Pinto
October 10, 1980 – February 24, 2018

 "All these things my hand has made, and so all these things came to be, declares the Lord. 
But this is the one to whom I will look: he who is humble and contrite in spirit and trembles at my word." Isaiah 66:2

Silas S. Pinto was born October 10, 1980 in Brazil to Silas A. Pinto and Keila (Castro) Brazis. His family moved to the United States when he was 8. He passed away February 24, 2018 at his home in Prospect Heights, IL.

Silas was the Executive Chef at the Moorings of Arlington Heights. He studied culinary arts under the Grand Master Chefs of Tuscany. He was a devoted and active member of Harvest Bible Chapel, where he and his wife served in the "Walk In The Word" counter at the Rolling Meadows campus book store ministry.

Silas was a great fan of soccer, mixed martial arts, gardening, and sharing his gift of hospitality by cooking amazing food and serving many.

Silas was a devoted husband who loved his wife and had dreams for them to live a long life together. He was a man of deep faith and his life an inspiration to trust God in the journey God gives you. Silas had cancer for three years, and throughout he looked to God to show him how to live life according to His plan. He loved his friends and family and found tremendous joy in the times he spent with them.

Silas is survived by his wife Amber (Nordling) Pinto; his mother Keila and step father Peter T. Brazis; his father Silas; his brothers Ruben (wife Paola, niece Mia Grace and nephew Lucas Thiago) and Marcos; his step sister Tamar Brazis; his parents by marriage, Brad and Lynda Nordling; his brother-in-law Matthew Nordling (nephew Caleb); his grandparents Roberto and Edna Castro; his six backyard chickens and many other close family and friends. He will be deeply missed.

"It's not how long you live, it's how you live your life." --Silas Pinto 

Visitation February 28, 2018 from 3:00 PM until the time of funeral service at 4:00 PM at Harvest Bible Chapel, 800 Rohlwing Road, Rolling Meadows, IL 60008.  

For photos and videos of Silas' beautiful life, visit SilasPinto.com.
Previous Events
Visitation
Harvest Bible Chapel
800 Rohlwing Road
Rolling Meadows, IL 60008
Funeral Service
Harvest Bible Chapel
800 Rohlwing Road
Rolling Meadows, IL 60008
Memorial Contribution