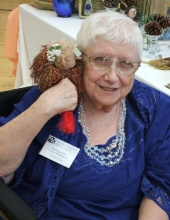 Obituary for Ruth Ann Aquilina
Ruth A. Aquilina
Of Schaumburg

Ruth A. Aquilina was born on December 17, 1938 in Sand Beach Township, MI to Howard and Ida Eveline (nee Marengo) Schnell. She died Tuesday, December 19, 2017 in Elk Grove Village.

Ruth is survived by her sons, Rudy (Tricia Maes) Aquilina and Joe (Celeste Kuta) Aquilina; brother, Andy Schnell; and sister-in-law, Patricia Rooke.

She was preceded in death by her parents; siblings, Rodolph Schnell and Sr. Rose Marie Schnell, C.Ss.R.

Ruth worked as a Certified Nursing Assistant for The Arbor of Itasca. She loved to work with the residents on arts and crafts projects and while she was there, many of the art projects adorned its halls. After being diagnosed with Parkinson's disease, Ruth's creativity became more intense and she began to explore all types of items and mediums, resulting in whimsical dolls and animal sculptures. Her artist's statement reads: "My artwork makes me feel calm. I like my dolls. I appreciate them. I put them around me and I say to them, 'Thank you for letting me create you'. " She once wrote, "I am a prisoner of Parkinson's. I dance to music that no one else can hear."

Like all her siblings, Ruth had a wry sense of humor, even as a young girl, which lent itself to all manner of playful mischief. You knew when that twinkle in her eye appeared, something infuriatingly funny was about to be done or said. These tendencies led her to having more unconventional jobs than many people: elevator attendant, burger slinger, candy making, pickle packing and night watch security were some of the jobs she took to take care of her family. These were the jobs that she enjoyed so much more than stints in sales or accounting departments.

While never wealthy, she made sure her family didn't feel less fortunate. Ruth loved to spend time with her family and was always looking for adventures. These two things led to childhood adventures for her sons, trips to science fiction conventions, road trips across Michigan, the northern states and western Canada, always to be remembered by her family.
In her later years, her sense of adventure didn't dull; it just meant a day out riding around town and hitting up the local stores for inexpensive treasures to use in her art. These were cherished days spent with family.

Ruth will be remembered as a devoted mother, loving daughter and sister. She was a truly sweet person and wherever she worked or lived people liked being with her. Her life is a reminder that life is about being lived with loved ones.

Funeral Mass 9:30 am, Friday, December 22, 2017 at Our Lady of the Wayside Catholic Church, 440 S. Mitchell Avenue, Arlington Heights, IL 60005. Interment will be private.

In lieu of flowers memorials may be given to the Parkinsons Disease Research Society <http://parkinsonsprogress.org/contact/>, Northwestern Medicine Central DuPage Hospital, 25 N. Winfield Road, 4 North Tower, Winfield, IL 60190, 630-933-3077. Funeral Information and condolences can be given at www.GlueckertFuneralHome.com or (847) 253-0168.
Previous Events
Funeral Mass
Our Lady of the Wayside Catholic Church
440 S. Mitchell
Arlington Heights, IL 60005
Memorial Contribution
Parkinsons Disease Research Society
25 N Winfield Road
4 North Tower
Winfield, Illinois 60190