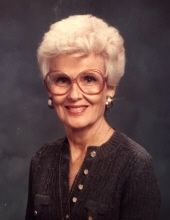 Obituary for Abbie O. Hubbell
Abbie O. Hubbell
Of Park Ridge and Freeport Illinois


Abbie O. Hubbell, died Wednesday, October 18, 2017 at the Moorings Health Center in Arlington Heights, IL. She was born on February 18, 1928 to Fred H. and Marie L.(nee Carlsten) Olson in Morrison, IL, grew up on a farm outside Chadwick, raised her girls in Park Ridge, and was an active community member of Freeport, IL in later years.

During World War II she worked on the farm while her brothers were away in service, Later, she graduated from the University of Illinois with a degree in Music. While there she became a member of Alpha Gamma Delta, and P.E.O.

Abbie was devoted to her family, church, community, and the love of music. She was an ardent community volunteer, dedicated office manager and accomplished pianist and organist who mentored many student musicians and played for countless church services (of any denomination), funerals, weddings, receptions, holiday/birthday parties, family reunions, and impromptu sing-alongs. She was a supporter of the Arts, including Ravinia, her local art museum, library and historical society. The girls at the Sleezer Home in Freeport lovingly referred to her as Grandma Abbie and dedicated a storybook garden in her name.

She was always gracious and grateful. She gloried in the wonder of nature's miracles and simple pleasures, collected little books, and passed along pearls of wisdom heard on late night WGN radio. Abbie enjoyed being with her grandchildren, traveling around the country, and circling around the dance floor with good friend, Stan Naruz.

Loving mother of Heidi (Guy) Bolling, Polly (Jim) McCauley, Amy (the late John) Welzenbach; devoted grandmother of Christine (Matt) Soskins, Fred (Victoria) Skeppstrom, Rebecca (Sam Killian) Welzenbach, Ben Welzenbach, Matthew (Marissa) McCauley, Kelsey (Benjamin) Garlock, and Topher McCauley; great-grandmother of Quinn McCauley, Emma McCauley, Alida Killian, Annabelle Garlock, and Vincent Skeppstrom; loving sister of Ward (the late Beverly) Olson; the late Kent (Nell) Olson, and the late Fred T. (the late Virginia) Olson. She was a dear cousin and friend to many.

She is dearly missed.

She was preceded in death by her parents, Fred H. and Marie L. (nee Carlsten) Olson, her brothers Fred T. and Kent Olson, Fred Hubbell, and her grandson, Daniel McCauley.

A memorial service in honor of Abbie will be held for family and friends at a later date sometime in the early Spring.

Memorials may be given to the United Presbyterian Church of Freeport, IL 302 W. Stephenson Street, 61032 phone: 815-235-3159

Information and condolences can be given at www.GlueckertFH.com or (847) 253-0168.
Memorial Contribution