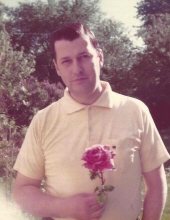 Obituary for William P. Raef
William P. Raef, long-time resident of Arlington Heights, passed away July 13 at age 90. He was born in Chicago and grew up in Rogers Park on the Far North Side. William was a graduate of St. Gregory High School and attended DePaul University, where he was feature editor of the yearbook, "The DePaulia".

In 1951, he met Mary Jeanne Callahan, whom he wed in 1952 shortly before being deployed by the Army to serve in the Korean War. Upon his return in 1953, he and Jeanne lived in Edgewater, then Andersonville on the North Side, before moving to Palatine in 1965.

William had a lifelong love of music, singing bass in the glee club at St. Gregory High School, and later in the parish choirs at St. Gregory in Andersonville and St. Thomas of Villanova in Palatine—a group led by Mary Ann Falkenberg that later sang at Palatine's St. Joseph Home for the Elderly. William sang under the direction of Mary Ann Falkenberg for 50 years.

He also was active in community singing groups including the Arlingtones barbershop chorus, the Niles Concert Choir, the Harper College Festival Chorus, the Melodiers, and the Sentimentalists. After retiring in 1991 from Casualty Insurance Company in Chicago as vice president of human resources, he also became active in community theater at St. James Parish in Arlington Heights.

William had a gift for words, which he expressed early in his career as a direct-marketing copywriter for Banker's Life and Casualty Company, and later Security Mutual Casualty Company in Chicago. He also was a prolific poet, remembered by many for the poems he wrote to commemorate friends' and family members' birthdays, anniversaries, and other special occasions.

On his voyage to Korea, he served as the poet for "The Gordon Flash", the daily newspaper of the troop ship, the "USS Gordon". For years, he would recite his favorite limerick from that voyage for family and friends:

Now hear this, all men at sea,
When you empty a can of debris.
As it flies into space,
You'll get hit in the face
If you do not know windward from lee.

William will be missed by his wife of 67 years, Mary Jeanne (nee Callahan); daughters Mary Susan and Mary Diane (Joseph) Battisto; sister Joan Francois of Racine, Wisconsin; and many nieces and nephews.

He was preceded in death by his parents, Martha (nee Miska) and James Raef, and brothers Charles ("Bud"), Donald, and Herbert Raef.

Memorials may be given to the Alzheimer's Association or a charity of your choice.

Services were held.