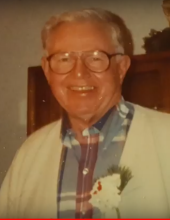 Obituary for William Joseph "Bill" Cadigan
William Joseph "Bill" Cadigan
Formerly of Arlington Heights

William Joseph "Bill" Cadigan, aged 91, formerly of Arlington Heights, died September 22 at his home at the Resurrection Retirement Center surrounded by his family. A man rooted in his Roman Catholic faith, he is remembered for his good humor, big-heartedness, and devotion to family.
Born on the South Side of Chicago to Irish immigrant parents, Bill grew up in St. Rita's Parish. He had to miss his high school graduation and the valedictory address he would have given when he joined the Navy in the closing months of World War II, serving as an aviation radio technician. With the encouragement of his Navy friends and the support of the GI bill, he received his degree in civil engineering from Illinois Institute of Technology.
As a civil engineer at Consoer Townsend, and Associates, he designed and oversaw the construction of infrastructure projects in the Middle East, the planned city of Columbia, MD, levees on the Mississippi and numerous suburban communities around the Chicago area. A beloved and respected boss, he was named the Chicago Civil Engineer of the Year in 1990 and was president of the Illinois chapter of the American Society of Civil Engineers.
Deeply proud of his Irish heritage, he served as the Cadigan family historian, maintaining the family tree and building connections between relatives on both sides of the Atlantic. He founded the Irish American Engineering Society which still provides scholarships to students in the Chicago area each year.
He was preceded in death in 2014 by his wife, Mary, whom he adored. He was a steadfast and loving caregiver to her for years as she battled Alzheimer's.
A loving father, he is survived by his six children, Mary Clare, Catharine, Anne, Sheila, Bill, and Eileen. As a father, he served as a role model for hard work and always approached difficulty with a sense of humor. He raised his family in Arlington Heights, a city he helped to design in the 1950's and 60's and was an active member of St. James parish.
Known for his booming laugh and joyful zest for life, his happiest role was as a grandfather to his nine grandchildren (Michaela, Dante, Liam, Isla, Terra, Joe, Cecilia, Nadia, Billy), by whom he is beloved and remembered as a purveyor of fun, a great story teller, and a role model. He frequently traveled to visit them, getting to know the smallest details of each of their lives, and sent each grandchild a meticulously handmade personal valentine every year.
In addition to his six children, sons-in-law Mike and Pat, daughter-in-law Beth, nine grandchildren, and many nieces, nephews and cousins, he is survived by his sister Rita Koutnik. A video commemorating his life can be found here: <https://www.youtube.com/watch?v=Rx_k8LSpztA>
Visitation will be held from 3:00 to 9:00 pm Tuesday, September 25, 2018, at Glueckert Funeral Home, Ltd., 1520 N. Arlington Heights Rd., Arlington Heights. The funeral will begin at the funeral home on Wednesday with prayers at 8:45 am proceeding to Our Lady of the Wayside Church, 440 S. Mitchell St., Arlington Heights, IL 60005 for Funeral Mass at 9:30 AM. Committal service 12:15 pm, graveside at Holy Sepulchre Cemetery, 6001 W. 111th St, Alsip, Ill.

In lieu of flowers, memorial contributions, in honor of Bill and Mary Cadigan, may be given to Journeys from PADS to HOPE, 1140 E. Northwest Hwy. Palatine, IL 60074 or <https://www.journeystheroadhome.org/> .

Funeral information and condolences www.GlueckertFH.com <http://www.glueckertfh.com/> or (847) 253-0168.
Previous Events
Visitation
Glueckert Funeral Home, Ltd.
1520 N. Arlington Heights Road
Arlington Heights, IL 60004
Prayers
Glueckert Funeral Home, Ltd.
1520 N. Arlington Heights Road
Arlington Heights, IL 60004
Funeral Mass
Our Lady of the Wayside Catholic Church
440 S. Mitchell
Arlington Heights, IL 60005
St. James Bereavement Ministry Handling Funeral Planning
Committal Service
Holy Sepulchre
6001 W. 111th St.
Alsip, IL 60803
Cemetery Details
Location
Holy Sepulchre Cemetery
6001 W. 111th St.
Alsip, IL 60803