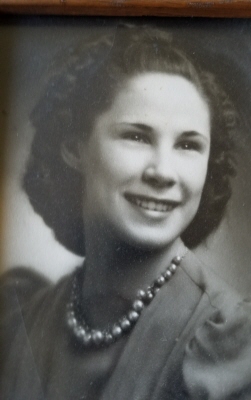 Obituary for Virginia C. Ort
Virginia C. 'Jean" Ort
Of Stickney

Virginia (Jean) C. Ort, nee Mack, longtime resident of Stickney Illinois and graduate of Steinmetz High School, left us on May 20th at 96 years of age.

Predeceased by her husband, Richard F. Ort, and her only sibling Richard Mack, she and her husband became post WW2 residents of Stickney, active with the Stickney American Legion Post 687- Jean in the Womens' Auxiliary. They were also parishioners of St Pius X where the majority of their children attended elementary school.

Jean loved working with numbers and enjoyed a long career as a bank teller and teller supervisor with Mid America Federal in Cicero Illinois, where she also became lifelong friends with several co-workers.
She was also the manager of the "Ort Resort" (the family home on Clinton Avenue) where guests could enjoy weekend pool parties, a cold Stroh's or glass of Riunite and dine on (hopefully thoroughly) grilled chicken prepared by supervisor/spouse, Dick.

Jean loved animals, especially cats and dogs, and was a novice squirrel trainer! All local squirrels knew they could count on her to provide honey roasted peanuts on the daily; some of us even met and hand fed Rusty and his brethren! Luckily none took up residence, though one persistent fella did find himself stuck in the kitchen window.
A lifelong Cubs fan, Jean was thrilled to see her beloved team win the World Series in 2016. She definitely had some ideas for Joe Maddon about his bullpen - she liked that left-handed looker, Cole Hamels, but thought Darvish should be traded.

Also an avid reader and patron of the Stickney Forest View Library, she kept up on current events with daily viewing of WGN Channel 9 News and daily reading of the Chicago Tribune. Other local favorites included the Jewels, the Riverside Restaurant, Vesecky's Bakery and Baker's Square.

Virginia is survived by her 6 children - Donna, Diana, Debra, David, Daria and Wendy, 16 grandchildren and numerous great-grandchildren. She did not wish to have a wake or formal services; as such, a private memorial will be held at a later date. Should you wish to make a charitable donation in her memory, please consider your local no-kill animal shelter, Pets for Vets or the American Red Cross.