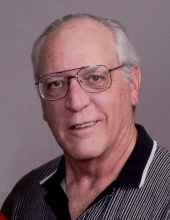 Obituary for Thomas Passolt
Thomas Passolt
Of Arlington Heights  

Tom Passolt was born on December 9, 1957, in Chicago, Illinois to George and Marilyn (nee Paulsen) Passolt. He died Wednesday, January 9, 2019 from lung cancer at home.

Tom worked in Information Technology for over thirty years. He always loved the outdoors. His interests included fishing with his father and brothers, watching the Bears, and spending time with his dogs over the years. Tom looked forward to his annual hunting trips and the once in a life time African safari.  Tom participated in international black powder rifle competitions in Raton, New Mexico in 2004 and Australia in 2006. He loved spending time with family, especially his three grandchildren. He will be greatly missed. 

Tom is survived by his wife Terri (nee Priller) Passolt; his children Carl (Laura) Guenther and Alison (Ryan) Frye; his grandchildren Isabella, Owen and Scarlett; his brothers Bill (Joan), Jeff (Jeanne) and Jim (Pam) and by many nieces and nephews.   

Tom is preceded in death by his parents.   

Memorial visitation will be Saturday, January 26, 2019 from 9:00 AM until the time of memorial service at 11:00 AM at First United Methodist Church of Arlington Heights, 1903 E. Euclid Ave., Arlington Heights, IL 60004.  In lieu of flowers, memorials may be given to The National Park Foundation, 1110 Vermont Ave, NW, Suite 200 Washington, D.C. 20005 or P.A.D.S. Program, c/o First United Methodist Church, 1903 E. Euclid Ave., Arlington Heights, IL 60004.
Previous Events
Memorial Visitation
First United Methodist Church of Arlington Heights
1903 E. Euclid
Arlington Heights, IL 60004
Memorial Service
First United Methodist Church of Arlington Heights
1903 E. Euclid
Arlington Heights, IL 60004
Memorial Contribution
P.A.D.S, Program, c/o First United Methodist Church
Arlington Heights, IL 60004
The National Park Foundation
1110 Vermont Avenue, NW
Suite 200
Washington, D.C. 20005