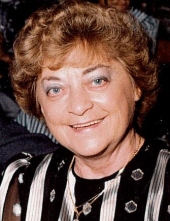 Obituary for Ruth Vogeler
Ruth Bash Vogeler was born November 25, 1929 in Philadelphia, Pennsylvania to Robert and Ruth (nee Walsh) Bash. She died Saturday, June 29, 2019 at Church Creek Senior Living in Arlington Heights, Illinois. 

Ruth enjoyed working, especially when it involved traveling to different states and countries.  She began her career in retail sales at Hagenbring's fabric store in Arlington Heights.  She then worked for Talon Threads, supervising employees that placed sewing products in stores.  She then joined American Thread Company where she served for many years as mid-western regional sales manager marketing fabric, trim, and tassels to various manufacturers throughout the Midwest.  Those who loved her will always remember her whenever they see a tassel.  After she left American Thread Company, she returned to retail sales, working full time for Von Maur in Glenview until she retired at age 80. She loved to sew and took great delight in making clothes for her daughters, especially their wedding dresses. She was an avid reader of nonfiction, history and memoirs and volunteered teaching English as a second language and reading to elementary students. She was happy when she had a well-organized schedule with lot of activities. 

The name Ruth means "friend"; and Ruth cherished and nurtured her friendships, especially her life-long friend Margaret Livingston. She loved golf and played with her "golfing buddies" for about 20 years and continued to keep in contact with them when their golfing days were past. She also loved and cherished her nieces and nephews. She was at Church Creek Senior Living for only a short time, but so many people had kind words about her fun personality and attitude.  Even her Walgreens pharmacist spoke fondly of her. She loved being near the water and docks where boats were moored because it reminded her of summer visits to her grandparent's home on the Jersey Shore when she was a child.

 Ruth is survived by her children: Susan (John) Rische, Sandra (Brian) Feiten, and Sherri (Raymond) Yong; her grandchildren: Erica (Rocky) Rische-Baird, John Mark Rische, Mark (Anja) Meyers, Ariel (John) Plasencia, and Raymond Yong; and her great-grandchildren:  Elizabeth (Ellie) and Gavin Meyers.

She was preceded in death by her husband of 58 years Robert B. Vogeler, her parents Robert James Bash and Ruth Bash, and her twin sister Roberta B. Anderson. 

Services will be held on Monday, July 15, 2019 from 9:30 a.m. until 10:45 a.m, at the chapel at Memorial Gardens Cemetery, 2501 Euclid Avenue, Arlington Heights, Illinois, 60004.

In lieu of flowers, memorials may be given to Our Saviour's Lutheran Church, 1234 N Arlington Heights Rd, Arlington Heights, IL 60004.  Condolences can be offered at www.GlueckertFuneralHome.com or (847) 253-0168.
Previous Events
Memorial Service
Memory Gardens
2501 E. Euclid Avenue
Arlington Heights, IL 60004
Memorial Contribution
Our Saviour's Lutheran Church
1234 N. Arlington Heights Road
Arlington Heights, IL 60004