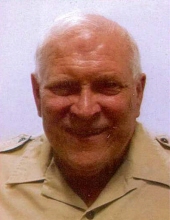 Obituary for Neill T. (Tom) McLean, III
Neill T. (Tom) McLean, III
Of Arlington Heights

Neill T. (Tom) McLean, III was born on August 28, 1950 in Clearwater, Florida to Neill and Beulah (nee Curl) McLean. He died Saturday, March 9, 2019 at Northwest Community Hospital in Arlington Heights.

Before retiring in 2017, Mr. McLean was a teacher for over 30 years. At the time of his retirement, Neill was a history and social studies teacher at Kelly High School for Chicago Public Schools. He was trained as an International Baccalaureate Educator and throughout his life was active in Boy Scouts where he served as a counselor at Camp Ma-Ka-Ja-Wan and Camp Owasippe, and an Order of the Arrow member.

Neill is survived by his sister, Esther L. (David) Zimmerman; his nieces Jill (Mike) Wockenfus, and Amy (Brian) Kahl, and his nephew Scott (Kim) Zimmerman; and his great nieces and great nephews Tanner & Payton Kahl, Mackenzie & Zoe Wockenfus, and Benjamin & Kelsey Zimmerman.

He was preceded in death by his parents.

Private funeral services will be held at a later date.

In lieu of flowers memorials may be given to Kelly High School Scholarship Fund, 4136 S. California Ave., Chicago, IL 60632. or Boy Scouts of America, 617 E. Golf Road, # 101, Arlington Heights, IL  60005.

Funeral Information and condolences can be given at www.GlueckertFuneralHome.com or (847) 253-0168.
Memorial Contribution
Kelly High School Scholarship Fund
4136 S. Califonria Avenue
Chicago, IL 60632
Boy Scouts of America
617 East Golf Road
# 101
Arlington Heights, IL 60005