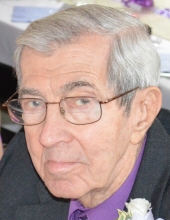 Obituary for Melvin John Gaare
Melvin John Gaare
Of Arlington Heights  

Melvin John Gaare (age 101) was born January 29, 1918 in Bloomingdale, Illinois to Henry C. and Elizabeth (nee Mirs) Gaare.  He died October 20, 2019 while in brief hospice care at Northwest Community Hospital in Arlington Heights. 

Mel lived most of his life in Arlington Heights, Illinois.  He graduated from Arlington High School in 1937.   He worked for his father at Gaare's Studebaker Garage and Showroom from the age of ten until he signed up to join the Army Air Corps on February 17, 1941.   He left the Army Air Corps with the rank of Technical Sergeant on November 20, 1945.  He then returned to Arlington Heights where he worked as a mechanic for several businesses, including Lattof Chevrolet, before starting his own business with Mel's Pure Oil, later to be known as Mel's Union 76, located on Kensington Street in the Arlington Market Shopping Center.   

Mel met his wife, Alice Caroline (nee Diekmann) Gaare, after he left the Army Air Corps. They were married on June 21, 1947 in Arlington Heights and celebrated 71 years of marriage before she died on February 15, 2019.  They enjoyed traveling around the United States and had the opportunity to visit many countries.  They were both longtime members of St. John's United Church of Christ in Arlington Heights.  Mel was active in the Lion's Club, enjoyed playing cards, and often took fishing trips to Wisconsin and Minnesota with friends.  He was also a volunteer fireman for seventeen years for the Village of Arlington Heights.  He was an ardent and loyal fan of all Chicago sports, especially the Chicago Cubs and was so happy to live long enough to see them finally win the World Series! 

Mel was a loving son, a devoted husband and father of four children.  Mel is survived by his children Kathleen (Charles) Gaare-Wiese of Creal Springs, IL., David (Remia) Gaare of Glendale Heights, IL., Brian (Kathy) Gaare of Cary, IL., and Dennis (Pamela) Gaare of Omaha, Nebraska.  He will be sadly missed by his grandchildren Matthew (Veronica) Wiese, Allison Gaare, Jason (Erin) Gaare, Lauren (Joey) Franklin, and Jacob Gaare, as well as by his four great grandsons, Sebastian and Ethan Wiese, and Kendrick and Witt Gaare.  Mel is also survived by his sister-in-law Fran Gaare, brother-in-law Ronald Diekmann, and several cousins, nieces and nephews. 

Mel is preceded in death by his parents, his stepmother Vernice Gaare, his half-brother Robert Gaare, and many loving aunts and uncles. 
 
Visitation will be held on Friday, October 25, 2019 from 5:00 p.m. until 8:00 p.m. at the Glueckert Funeral Home, Ltd., 1520 N. Arlington Heights Road, Arlington Heights.  Funeral services will be held at 1:00 p.m. on Saturday, October 26, 2019 at the Glueckert Funeral Home, Ltd. with interment immediately following at Memory Gardens Cemetery in Arlington Heights, Illinois.
Previous Events
Visitation
Glueckert Funeral Home
1520 N. Arlington Heights Rd.
Arlington Heights, IL 60004
Funeral Service
Glueckert Funeral Home
1520 N. Arlington Heights Rd.
Arlington Heights, IL 60004
Cemetery Details
Location
Memory Gardens
2501 E. Euclid Avenue
Arlington Heights, IL 60004