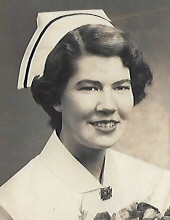 Obituary for Elizabeth Finlayson
Elizabeth Finlayson
Of Arlington Heights  

Elizabeth Finlayson was born September 28, 1931, in Fort William (now Thunder Bay), Ontario, Canada, to Edward Blake and Anne (nee Speirs) Kempton. She died June 23, 2019, at the Lutheran Home in Arlington Heights.   

Beth graduated from the Port Arthur General Hospital Nursing School in September 1953. She moved soon after to Evanston, Illinois, where she accepted a position at Evanston Hospital. As she wrote to a new friend not too long ago, she "lived in 'Menopause Manor' until my friends and I could move to a swanky Quonset hut on hospital grounds."  

While a nurse at Evanston Hospital caring for Adolph Lindstrom, a Swedish immigrant and well-known builder (he was the general contractor for the Baha'i Temple in Wilmette, IL), she met Adolph's son Theodore Ingvar Lindstrom, whom she married in 1955. Beth and Ted had four children in relatively rapid succession: Ann Lindstrom, Andrew (Ako Fukashima) Lindstrom, Steven (Anna) Lindstrom, and Daniel (Mary Klein) Lindstrom. All survive her. Beth's grandchildren are Ian, Ava, Elena, Nathaniel, and Theodore Lindstrom. Beth is also survived by her wonderful younger brother Gavin Kempton and his wife Shirley. 

Beth resumed work as a nurse in 1965 at Northwest Community Hospital in Arlington Heights, IL. She worked part-time on the p.m. shift but soon became head nurse of a 48-bed medical unit in 1967. She had a fulfilling career as a head nurse with positions of increasing responsibility as the years went on, and she loved her "girls," the nurses she hired and worked with, and for whom she advocated increasing responsibility as well. She hosted many backyard pool parties for the nurses on her floor, and she and they duly unwound: drinking, eating, throwing each other in the pool, and having a great time. 

Beth loved Ted, and he her. They loved their children and they loved music together, blasting Guys and Dolls and drum and bugle corps records on their new stereo (bought in the 1970s). As Beth herself said, "Music is an essential part of my life and always has been. I enjoy everything from pop tunes to opera—love jazz, Dixieland, rock and roll, classical, and perhaps especially drum corps." 

Ted died in 1988 after fighting cancer for several years.   Beth missed Ted terribly but emerged from grief to enjoy a long second act with her second husband Colin Ian "Scot" Finlayson. They were married in 1989.  

Scot was Beth's brother-in-law. Scot's wife, Margaret "Mugs" (nee Lindstrom) Finlayson, was Ted's sister and had also died in 1988. Beth and Scot got on like a house afire, enjoying each other's companionship and traveling everywhere they had a notion to go: England, France, Italy, Spain, Portugal, Scandinavia, Japan, Alaska, New Zealand, the U.S. national parks, and even Canada. Beth and Scot first lived in Fort Wayne, IN, in Scot's home, and moved to Croasdaile Village in Durham, NC, in 2000. This move placed Beth near her son Andy, his first wife, Yoshie (Ito) Lindstrom, and their son, Ian. Beth and Scot enjoyed many gatherings and trips with Andy and his family, and with Scot's extended family, over many happy years.

Scot died in 2007. Beth was also preceded in death by her brother Blake (late Catherine) Kempton and by her parents. 

Beth, though twice a widow, picked up with her life and made the most of it, moving to a townhome in Durham, NC, where she was a vital cog in a neighborhood network of friends who threw dinner and holiday parties, went to restaurants and the Duke Gardens together, drove to Greensboro for the Bryan lecture series, and attended book discussions. Beth was especially determined to stay healthy and active, and to this end went to Meadowmont Wellness Center several times weekly for cardio workouts, non-impact aerobics, and tai chi. Her son Andy and his wife Ako, her granddaughter Elena, and her daughter-in-law Yoshie helped Beth immeasurably during this time; she was deeply grateful for their love and support. 

In 2018 Beth moved back to Arlington Heights, living first at Church Creek, then at the Lutheran Home. She had developed primary progressive aphasia, and her difficulty communicating had finally made it impossible for her to live on her own. In September of 2018 she discovered that she had been living with COPD for several years. These illnesses made life difficult, but Beth still had joyful times with her sons Steve and Dan, and their families, even until her very last day.   

A memorial visitation will be held Friday, July 5, 2019, at Glueckert Funeral Home, 1520 N. Arlington Heights Road, Arlington Heights, from 2:30 PM until the time of memorial service at 4:00 PM.   

In lieu of flowers, please make memorial contributions to any charity you wish to support.
Previous Events
Memorial Visitation
Glueckert Funeral Home
1520 N. Arlington Heights Rd.
Arlington Heights, IL 60004
Memorial Service
Glueckert Funeral Home
1520 N. Arlington Heights Rd.
Arlington Heights, IL 60004
Memorial Contribution