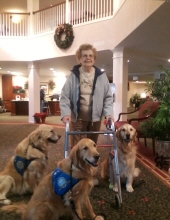 Obituary for Dana M. Elsbergas
Dana M. Elsbergas
Of Arlington Heights

Dana M Elsbergas, of Arlington Heights, IL. Formerly of Melrose Park, IL and Prospect Heights, IL.

Dana was born in Lithuania on June 2, 1925 to Juozas and Brone Paskevicius. She left the world very peacefully on May 7, 2019 in Arlington Heights with her daughter at her side.

The Paskevicius family fled their native country in the waning days of World War II, ending up in Germany in a displaced persons camp. Dana worked in an administrative capacity for the United Nations Relief and Rehabilitation Administration (UNRRA), where she assisted refugees in their resettlement efforts. She translated documents such as birth and marriage certificates, diplomas, and wrote letters on behalf of other DPs; she could speak and/or read several languages, including German, English, and French.

She also met her future husband Vytenis while she was living in Germany.

Dana, her parents, and her brother came to the United States in 1949. She married shortly after that, and she and Vytenis had their only child Kristina several years later. The Elsbergas family eventually settled in Melrose Park, where they were an active part of the Lithuanian community. She worked throughout her life, first as an office administrator and later as a bank teller. After her husband died, she moved to Prospect Heights to be closer to her daughter. She loved being outdoors and spent many happy hours walking the paths in Rob Roy and sitting by the pool with her friends.

Dana was an avid and skilled needleworker and loved to knit, crochet and needlepoint. She often gifted examples of her handiwork to her friends and acquaintances.

While her circle of friends was small, she was an intensely caring and loyal person, and always stood ready to help in any way she could. She always found strength and solace in her faith.

Dana is survived by her daughter Kris and beloved son-in-law Bob.

She was preceded in death by her husband, her parents, and her two brothers.

A Mass of the Resurrection will be celebrated for Dana at Saint James Catholic Church, 831 North Arlington Heights Road in Arlington Heights on Tuesday, May 14 at 10 a.m.

Interment is private.

In lieu of flowers, please consider making a contribution in Dana's memory to Lutheran Church Charities (LCC) K-9 Comfort Dog Ministries. https://www.lutheranchurchcharities.org/k-9-comfort-dogs-about.html .


Funeral Information and condolences can be given at www.GlueckertFuneralHome.com or (847) 253-0168.
Previous Events
Funeral Mass
St. James Catholic Church
831 N. Arlington Heights Rd.
Arlington Heights, IL 60004
Memorial Contribution
Lutheran Church Charities K-9 Comfort Dogs
3020 Milwaukee Avenue
Northbrook, IL 60062