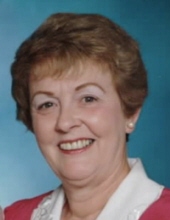 Obituary for Carolyn Sue Hunter Pinney
CAROLYN PINNEY
Carolyn Sue Hunter Pinney was born September 22, 1937, in Vandalia, IL and passed away Wednesday, August 14th, in Ventura, CA at the age of 81. We rejoice in the knowledge that she is now with her Lord and Savior, Jesus Christ. She was the steadfast and loving wife of husband, Jim Pinney, with whom she shared 60 years of marriage and who preceded her in death in 2017. They spent most of their life together in Arlington Heights.  

Carolyn was a devoted mother to three and grandmother to eight.  She graduated from the School of Nursing of Lutheran General Hospital in Park Ridge, IL and enjoyed working in the cardiac unit. After earning her bachelor's degree from University of Illinois, she became the school nurse at West Chicago High School.  She, together with Jim, had the wonderful gift of hospitality and enjoyed any time spent with family, creating traditions and beautiful memories.  Her love was demonstrated through faithful prayer, hugs, thoughtful gifts, trips together, and cookies made with her grandkids. Her friends were very important to her and she made them at every turn.  She enjoyed antiquing, crafts, travel, Bible study and playing bridge and Scrabble.  

She is survived by her son, Jay Pinney (Kathryn) of Montreal, Canada, her daughter, Leslie Abbey (Robert) of Lancaster, KY, her daughter, Amy Schultz (Bill) of Ventura, CA and her eight grandchildren, Michael Pinney, Lisa Pinney, Jessica Pinney (Jérémie Dupont) and Jamie Pinney of Montreal; Terrica Pinney of Chicago, IL; Ryan Schultz of Los Angeles, CA, Renae Webster (Jordan) of Wasilla, AK and Jeanine Schultz of Lincoln, CA. She was preceded in death by her parents, Carl and Edna Hunter and sister, Judith Seaton, and is survived by her sisters, Joyce Staff (Jim) of Vandalia, IL and Joan Butkus of Woodstock, IL and brother, Scott Hunter of St. Joseph, IL.  A memorial gathering will be held in the Vista Room at Ventura Townehouse, 4900 Telegraph Road, Ventura, CA 93003 on Monday, August 26th at 3:00pm.  In addition, a celebration of life service will be held on Saturday, September 21st at 10:00 am in the sanctuary at The Orchard Evangelical Free Church, 1330 N. Douglas Ave., Arlington Heights, IL 60004 with a family visitation and luncheon to follow. Burial service will follow the luncheon. In lieu of flowers, donations may be made to Mayo Clinic at https://philanthropy.mayoclinic.org.
Previous Events
Memorial Gathering
Vista Room at Ventura Townehouse
4900 Telegraph Road
Ventura, CA 93003
Celebration of Life Service
Orchard Evangelical Free Church
1330 N. Douglas Ave.
Arlington Heights, IL 60004
Memorial Contribution