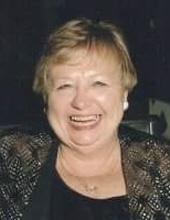 Obituary for Zylphia Mae Thomas
Zylphia Mae Thomas
Of Arlington Heights

Zylphia Mae Thomas was born on June 21, 1941 in Danville, Illinois to George and Veronica Mae (nee Billings) Tuttle. She died Saturday, July 1, 2017 at Alexian Brothers Hospice in Elk Grove Village, Illinois.

Mrs. Thomas was a homemaker.

Zylphia is survived by her husband, Randall Thomas; her step-children, Karen (Jim) Hummel, Robert Leahy (Sherie) Thomas, and David Randall (Dawn) Thomas; grandchildren Amy Grindle, Brian, Daniel, Jake Thomas; and her sisters, Teresa Jean Tuttle and Rene Lynn Ferrell and her brother, George Everett Tuttle.

She was preceded in death by her parents.

Memorial service to be held at a later date.

Information and condolences can be given at www.GlueckertFH.com or (847) 253-0168.