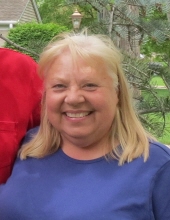 Obituary for Wendy Landwehr
Wendy Schauer Landwehr
Of Arlington Heights

Wendy Schauer Landwehr was born on August 11, 1953 in Chicago, Illinois to William and Marilyn (nee Freese) Schauer. She died Tuesday, June 20, 2017 at her home.

Mrs. Landwehr received her undergraduate degree from Eastern Illinois University and worked as a manager for several Marshall Field locations for four years. She received her Master's in Engineering from Illinois Institute of Technology and worked as an engineer and project manager for Northrop Grumman for 31 years before retiring in July 2016.

Wendy is a Senior Life Member, Board Member, Fellow and a recent Trustee Nominee for the Society of Women Engineers. She is a member of the advisory board School of Technology at Eastern Illinois University and was a co-founder Northrop Grumman's Women Engineer Organization, and is a member of the board of directors of "Old Crows." Wendy recently received Master Gardener certification from the University of Illinois and enjoyed volunteering for the Chicago Botanical Garden.

Wendy and Marty met at the IBEX Ski Club.  She was an avid skier and they skied all over the United States, Canada, and Europe.  Wendy and Marty loved to travel abroad, including their Baltic Sea Cruise last summer.  They visited all fifty states.  Wendy and Marty collected over 300 pasport stamps of national parks, and historical sites.  In addition, they loved NASCAR races, traveling to 50% of the race tracks.  They were avid gardeners.  She learned this from her father, Bill.  Wendy was passionate about being a member of the Society of Women Engineers.  She mentored young people who were interested in engineering. 

Wendy is survived by her loving husband Martin C. Landwehr, whom she married October 8, 1995; her mother, Marilyn Schauer; her siblings Sally Schauer (Jeff) Owen and Michael (Vicki) Schauer; and her nieces and nephews Lauren (Robert) Dion, Kelsey Schauer and Mathew Seidl.

She was preceded in death by her father; and her sister Kimberly (Brian) Schauer Seidl.

Visitation from 4:00 pm until 8:00 pm, Tuesday, June 27, 2017 at Glueckert Funeral Home Ltd., Arlington Heights, Illinois and Wednesday, June 28, 2017 at St. Peter Lutheran Church, 111 W. Olive St., Arlington Heights, IL 60004 from 12:00 pm until time of Memorial Service at 1:00 pm. Interment will be private.

In lieu of flowers memorials may be given to Society of Women Engineers, Scholarship Fund, SWE HQ, 130 E. Randolph Street, Suite 3500, Chicago, IL  60601, <http://societyofwomenengineers.swe.org> or to St. Peter Lutheran Church.

Funeral Information and condolences can be given at www.GlueckertFH.com or (847) 253-0168.
Previous Events
Memorial Visitation
Glueckert Funeral Home
1520 N. Arlington Heights Rd.
Arlington Heights, IL 60004
Memorial Visitation
St. Peter Lutheran Church
111 W. Olive Street
Arlington Heights, IL 60004
Memorial Service
St. Peter Lutheran Church
111 W. Olive Street
Arlington Heights, IL 60004
Memorial Contribution
Society of Women Engineers, Scholarship Fund, SWE HQ
130 E. Randolph Street
Suite 3500
Chicago, IL 60601
St. Peter Lutheran Church
111 W. Olive Street
Arlington Heights, IL 60004
Society of Women Engineers, Scholarship Fund, SWE HQ
130 E. Randolph Street
Suite 3500
Chicago, IL 60601