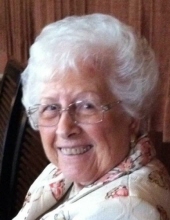 Obituary for Shirley J. Pfiester
Shirley J. Pfiester
Of Arlington Heights, IL

Shirley J. Pfiester, loving Wife, Mother, and Grandmother was born on January 31, 1921 in Chicago to Joseph and Alma (nee Gmeahle) Pagliughi. She died Wednesday, July 19, 2017 in Arlington Heights, IL.

Shirley worked as an administrative assistant for Western Golf Association in Golf, IL and was a member of Our Lady of Perpetual Help Church in Glenview, IL. She lives on in all of the stories she told, the lessons she taught, the songs she sang, and most importantly, the love she gave and the family she helped to shape.

Shirley is survived by her children, Cheryl (Roger) Smitter, and Corinne "Corky" (Larry) Richman; grandchildren, Bob (Jenelle) Lockhart, Christine (Alex) Liker, Don (Jennifer) Richman, Brad (Caitlin) Richman, and Ashley (Jonathan) Ehmann; great-grandchildren, Alexis (Jordan) Hernandez, Travis Grover, Sydnee Lockhart, Griffin Liker, Silas Liker, Paige Richman, Finn Richman, Ellis Richman and Baby Ehmann arriving soon; sister, Dolores (the late John) Adams; sister-in-laws, Pat Paige and Diane (the late Gregory) Meore; many nieces and nephews, and her loving team of caregivers.

She was preceded in death by her husband, Robert L.; her parents; brother, Raymond Paige; brother-in-law, Alfred (Florence) Pfiester, sister-in-laws, Mildred (Jim) Stephenson and Rose Marie (Michael) Sopko.

Services and Interment were private.

In lieu of flowers, memorials may be given to Ovarian Cancer/ American Cancer Society at www.cancer.org/cancer/ovarian-cancer.html <<http://www.cancer.org/cancer/ovarian-cancer.html>>. Funeral Information and condolences can be given at www.GlueckertFH.com or (847) 253-0168.