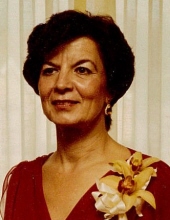 Obituary for Rose A. Gracey
Rose A. Gracey
Of Arlington Heights

Rose A. Gracey was born July 31, 1923 in Chicago, Illinois to John and Margaret (nee Baraben) Miljak. She passed away Friday, July 7, 2017 at her home.

We have truly been blessed to receive the dedicated love of our mother throughout our lives. She was the ultimate champion of protection, care and compassion for her children, grandchildren and great-grandchildren. Mom, we love you deeply and will greatly miss your beautiful words of love. Happily married and devoted to her husband Harry, she put forth all her effort into making our home a source of security and love. She enjoyed going back to work later, putting forth the same morals and ethics when fulfilling her responsibilities as secretary to the president of Marquette National Bank in downtown Chicago. She loved getting together to play Pinochle with her family and friends and was a dedicated Bear fan, attending many of their home games. She loved being involved in politics and was an Election Judge for several years. It was of utmost importance to her that all voters followed the rules. Living close to the Metropolis Theater, she attended a drama course there and was an actress in a play. She also frequently volunteered to usher during the performances. Most of all, our mother was a champion of instilling our faith as Christians and we were blessed that she nurtured our love for our Heavenly Father.

She is survived by her children, Roy (the late Vanda Bandera) Gracey, Janet (Anthony) Savaiano, and Dawn (Joe) Ochoa; grandchildren Kathryn (Eric) Swanstrom, Carolyn (Craig) Rutan, Daniella (Frank) Devivo, Michelle Savaiano, Anthony (Heather) Savaiano, Julie Pettit, and Laura Pettit; great-grandhildren Dylan Swanstrom, Victoria Swanstrom, Jaxon Rutan, Vaughn Rutan, Arianna Gomez, and Natalia Savaiano; sister Katherine Weber and many nieces and nephews.

Rose is preceded in death by her husband Harry Gracey; siblings Paul Miljak, Lucille Subrain, Ann Petrunick, Dorothy Fortina, and Maryann Merrill and her parents.


A committal service will be held 2:00 PM Monday, July 17, 2017 at Queen of Heaven Cemetery Interment Chapel, 1400 S. Wolf Road, Hillside, Illinois.

Funeral information and condolences www.GlueckertFH.com <http://www.glueckertfh.com/> or (847) 253-0168.
Previous Events
Committal Service
Randhill Park
1700 West Rand Road
Arlington Heights, Illinois 60004
The Committal Service will be held in the Interment Chapel at Queen of Heaven Cemetery.