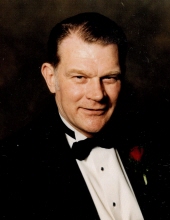 Obituary for Robert L. Gruhlke
Robert L. Gruhlke
Of Huntley, Illinois

Robert L. Gruhlke was born October 25, 1926 in Chicago to Emil and Lilly (nee Miller) Gruhlke. He died July 5, 2017 at Church Creek of Arlington Heights.

Robert served in the US Navy from 1945 to 1946 and 1950 to 1954 as a Hospitalman
Feb 1945 - Drafted into Navy and entered Great Lakes
April 1945 - Arrived at Farragut, ID for hospital corps training
June 1945 - Graduated corps school and staff at U.S.N.H. Seattle
Feb 1946 - Sea duty USS Burvris
Mar 1946 - Left Pearl Harbor for Manila on USS Randall APA 115
Mar 1946 - Arrived Manila at R/S Subic Bay
Jun 1946 - Detached from dispensary, left Subic Bay on USS Rawlins APA 226
July 1946 - Arrived Pearl Harbor
July 1946 - Arrived Panama and through Canal to Atlantic side
Aug 1946 - Arrived Norfolk Va.
Aug 1946 - Arrived Great Lakes and discharged

Robert is survived by his son Mark (Susan) Gruhlke; his grandson Calvin Gruhlke and by many nieces and nephews.

Robert is preceded in death by his wife of 55 years to Anna (nee Hauge) Gruhlke; his siblings Shirley Gruhlke and Elmer (late Evelyn) Gruhlke and by his parents.

Growing up on the south side new Homan and 55th, Robert was an avid fan of the Chicago White Sox and enjoyed going to games at Comiskey Park. He enjoyed drinking his favorite beer whether it was Old Style in the 70's to more recently Spotted Cow. During his retirement, Robert and Anna enjoyed traveling and spending time in Germany. Robert was a devoted husband to Anna and took care of her during her illness. As a father he enjoyed playing baseball and sharing advice.

Funeral and interment services will be private.

Condolences www.GlueckertFH.com <http://www.glueckertfh.com/> or (847) 253-0168.