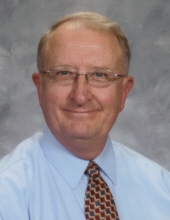 Obituary for Rev. Karl W. Schmidt
Rev. Karl W. Schmidt
Of Arlington Heights

Pastor Karl Schmidt was born on February 25, 1951 in Fort Wayne, Indiana to Karl and Gertrude (Miller) Schmidt. By his account, his love for the Lord and his calling to ministry began from the childhood influence of a long line of Lutheran church workers in his family and the witness of faithful teachers at St. Paul Lutheran School and Concordia High School in Fort Wayne. His gratitude to the Lutheran teachers who engendered in him a love for God's word, for music and for learning explain his own
lifelong commitment to supporting Lutheran education.

Karl graduated in the pre-theology program from Concordia Senior College in 1973 with a concentration in English. He worked as an auditor for Crepaco in Lake Mills Wisconsin for a year as he prayerfully considered his calling to ministry. Karl graduated from Concordia Seminary in St. Louis in 1978 after serving a vicarage year 1976-77 in Cheyenne, Wyoming at Trinity Lutheran Church.

He married Kathy (Puerschner) in 1973. They were blessed by a marriage filled with love and respect for the Lord and for each other. Karl relished being a loving and faithful dad to Meaghan (Harmon), Lexi, and Katie who share his love for the Lord, music and sports. He devoted himself to family, and he was an active and engaged dad who played everything from basketball to Pretty Pretty Princess with his girls
regularly. He and Kathy happily welcomed their first son into the family when Meaghan married Mike in 2000. When Jackson (2001) and Olivia (2004) were born, he launched the greatest adventure of his life, being a devoted and fun grandpa. Karl cherished his time with them and never tired of talking, listening, playing and challenging them. Having a faithful family was a blessing for which he passionately thanked God every day.

Karl served as pastor at St. Stephen Lutheran Church in Detroit from 1978-1984. Family memories of ministry in Detroit are a rich blessing. He served as dean of chapel and religion teacher at Luther High School North from 1984-86, and the family joined St. Peter Lutheran Church where he was active in Bible study and choir. He was called as pastor at St. Peter in April 1986. The Schmidt family has been richly blessed by the family of faith at St. Peter for the last 33 years, and in the last year Karl's most fervent and often-expressed desire was to be able to come back to minister among his dear friends at St. Peter.
It was really only when he realized that was not likely to happen, that he began to express his yearning for his heavenly home. Over the last 16 months, Karl never flagged in his love for ministry, always asking about and praying for his family at St. Peter. Even from his room at Symphony, when they hurt, he hurt, and when they celebrated, he celebrated. He was ever grateful for those with whom he served at St. Peter, especially his two faithful secretaries Shirley Stevenson and Janet Fischer.

Karl joined the saints triumphant on May 17, 2017. His belief that "God is good, all the time" never wavered, and we, as he, rejoice at Jesus' promise that we will be with him in paradise. To God be the glory!

Visitation will be at St. Peter Lutheran Church, Life Center, 111 W. Olive St., Arlington Heights on Friday, May 19, 2017 from 3:00 until 8:00 pm. Memorial celebration
will be held at St. Peter Lutheran Church on Saturday, May 20, 2017 at 11:00 am. Private committal ceremony following service.

In lieu of flowers, memorials to St. Peter Lutheran Church Benevolence Fund or
Concordia High School, 1601 St Joe River Dr., Fort Wayne, IN 46805 are appreciated.


Funeral information and condolences www.GlueckertFH.com <http://www.glueckertfh.com/> or (847) 253-0168.
Previous Events
Visitation
St. Peter Lutheran Church
111 W. Olive Street
Arlington Heights, IL 60004
Visitation will take place in the Life Center
Service
St. Peter Lutheran Church
111 W. Olive Street
Arlington Heights, IL 60004
Private Committal will follow
Memorial Contribution
St. Peter Lutheran Church
111 W. Olive Street
Arlington Heights, IL 60004
Please Note: Benevolence Fund