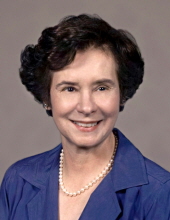 Obituary for Mitzi Johnson
MILDRED "MITZI" JOHNSON née Delich

Mitzi (Mildred) Johnson née Delich, 90, passed away peacefully in her home in Arlington Heights, IL on Tuesday, August 29th, 2017. Mitzi was born in Chicago in 1927 to the late Michael and Rose Delich and was a lifelong resident of the Chicago area. With her husband Clifford she made the Scarsdale neighborhood in Arlington Heights her home for the past 55 years.

Mitzi graduated from Bowen High School where she began her lifelong writing activities as a reporter for the Bowen Arrow newspaper before attending Northwestern University where she was a member of the Kappa Delta sorority. Mitzi received her Bachelor of Science degree in Political Science with a minor in journalism and was active writing for the Daily Northwestern. Mitzi met her beloved husband of 60 years Clifford while they were students at Northwestern. Mitzi and Cliff were married in 1949 in the Bond Chapel at the University of Chicago.

A founding member of Southminster Presbyterian Church in Arlington Heights, IL, Mitzi put her Christian faith into action as a dedicated volunteer with the Christopher House for more than four decades. She was a long-time member of the Christopher House Auxiliary Board and served as its President from 1989-1991 and 1999-2000. Mitzi was fervently committed to its mission of strengthening communities and empowering individuals; she spearheaded their Holiday Program for many years, created Thanksgiving holiday baskets, collected and distributed clothing and household goods and assisted with the Christopher House summer camp for city youth in South Haven, MI.

Mitzi was an active member of her community and an ardent supporter of Arlington High School. At Dryden Elementary School, she volunteered both as Picture Lady and as a member of the PTA. She also volunteered in the pediatric ward at Presbyterian-St. Luke's Hospital. Mitzi was a longtime member of Goday Questers, a steadfast patron of the arts and was a member of the Great Books Club for decades.

Family and friends were the delight and passion of Mitzi's full life. An excellent cook and homemaker, Mitzi was also an avid reader, a prolific writer and a progressive thinker. Known for her beautiful soprano voice, she also enjoyed travel with her husband Cliff, antiques, politics and baseball. Mitzi will be fondly remembered for her gentle spirit, her clear-sighted intelligence and the kindness she showed to everyone she knew. She had a playful sense of humor and loved laughter.

Mitzi was an extraordinary wife and partner to her husband Clifford, and a loving and devoted mother throughout her life to her children and grandchildren. Mitzi is survived by her brother David (Marie), her 4 children Susan (John), Glenn (Jane), Jeanne (Clancy) and Bob (Pamela) and her 10 grandchildren, Andrew, Ben, Carrie, Katy, Eli, Henry, Rose Beth, Alec, Will and James.

A church service will be held on Saturday, Sept. 9th, at Southminster Presbyterian Church, 916 E. Central Road; Arlington Heights, Illinois. Visitation: 10:00 - 11:30a.m; Sanctuary service at 12:00pm. Private burial at Memory Gardens.   

In lieu of flowers, contributions in Mitzi's name may be made to the Christopher House through Southminster Presbyterian Church, 916 E. Central Road; Arlington Heights, Illinois 60005.
Previous Events
Visitation
Southminster Presbyterian Church
916 E. Central Road
Arlington Heights, IL 60005
Funeral Service
Southminster Presbyterian Church
916 E. Central Road
Arlington Heights, IL 60005
Memorial Contribution
Christopher House c/o Southminster Presbyterian Church
916 E. Central Road
Arlington Heights, IL 60005