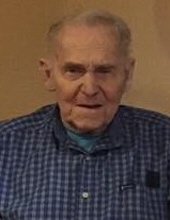 Obituary for Marvin John Griffin
Marvin John Griffin
Of Arlington Heights

Marvin John Griffin was born on April 5, 1929 in Cicero, Illinois. He died Tuesday, June 20, 2017 at Lee Manor Nursing Home in Des Plaines, Illinois.

Mr. Griffin was a delivery man for A New Dairy before retiring at age 79.

Marvin is survived by spouse of 40 years, Gloria M. nee Cagney; his step-children James M. (Danielle) Siemsen, Timothy M. (Kristin) Siemsen, Daniel R. (Kathleen) Siemsen and Bonnie K. Kannarr; his grandchildren, Ryan J. Siemsen, Ty T.J. (Natalie) Siemsen, Jynelle M. Siemsen, Amanda N. Siemsen, Myles J. Siemsen, Emma K. Siemsen, Kurtis J. Siemsen, Dax A. Jantz-Siemsen, Hunter R. Siemsen, Seth T.J. Kannarr, Jarod J.J. Kannarr, and, Toby R.S. Miles-Siemsen; and his great grandchildren Eleanor Ann Siemsen and Lilyana Belle Potter.

He was preceded in death by his daughter, Carol Ann Wells; and his parents.

Funeral Services are private.

Funeral Information and condolences can be given at www.GlueckertFH.com <http://www.glueckertfh.com/> or (847) 253-0168.