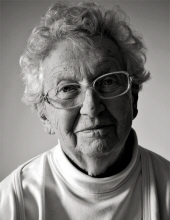 Obituary for Kathryn "Kay" Wuest Bennett
Kathryn "Kay" Wuest Bennett
of Arlington Heights

Kathryn Wuest ("Kay") Bennett passed away peacefully October 2, 2017 at the Lutheran Home in Arlington Heights, Illinois. Her husband Andrew P. ("Pete") Bennett preceded her in death in 2010, and her sister June Wuest Becht in 2015. She is survived by her son Frederick Bennett of Brookline, Massachusetts and her daughter Kathryn Scheiner of Arlington Heights. She is also survived by three grandchildren (Chris and Will Bennett, and Elizabeth Scheiner), nieces Meri Bert Cartee and Barbara Steinbach, sister-in-law Helen Paust and nieces Lucia Teutsch and Andrea Guidry, and nephew Bob Paust. 

Kay was born in St. Louis, Missouri on Valentine's Day, February 14, 1925, the daughter of Fred L. and Bertha (Philippi) Wuest. She met Pete while working at Washington University in St. Louis. She liked him immediately because he was so tall! They married on March 18, 1950 in St. Louis. The family moved to Peoria when Pete was transferred there in 1960. 

She attended Ritenour High School in suburban St. Louis, graduating class of 1942. She attended the University of Missouri in Columbia and received a Bachelor's degree in Education in 1946.  She earned a Master's degree in Education at Bradley University in Peoria in 1971. 

Kay was a long-time member of First Federated Church in Peoria. She was an active member of the American Association of University Women (AAUW), and a member of North Peoria Women's Club. 

After graduation from Mizzou she traveled to California and worked as a counselor at Camp Fire Girls Camp Minaluta. Her first job was at the placement office at Washington University in St. Louis. From 1950 to 1960 she raised her two children, Kathy and Fred. 

As a lifelong teacher, Kay taught for many years in the Peoria Public Schools. She taught at Woodruff High School in 1960 when the family first moved to Peoria. She taught 5th grade at Lincoln School in Peoria from 1963 to 1965. For the next twenty years from 1966 until she retired in 1987 she taught primarily the 5th grade but also 6th and 8th grades at Glen Oak School. 

When Kay and Pete retired, they traveled abroad to Canada, England, Scotland, Australia, Austria and Germany. They also traveled to many places in the Midwest when Pete exhibited watercolors at art shows and exhibits. 

Funeral arrangements are private. Donations may be made to the First Federated Church of Peoria, or to the charity of your choice. Arrangements by Glueckert Funeral Home, Ltd., Arlington Heights, Illinois.  Funeral information and condolences can be given at www.GlueckertFH.com or (847) 253-0168. 

Kay will be missed but always fondly remembered.
Memorial Contribution