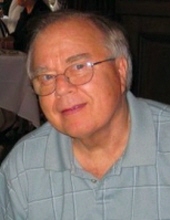 Obituary for James "Jim" Lee Pinney
James (Jim) Lee Pinney of Arlington Heights, Illinois passed away unexpectedly Sunday, July 16th, two days after his 80th birthday in Ventura, CA.  We rejoice in the knowledge that he is now with his Lord and Savior, Jesus Christ. 

He was the loving husband of surviving wife, Carolyn Pinney, with whom he celebrated his 60th wedding anniversary just last month. 

Jim worked as a life insurance salesman, stockbroker, trader on the Chicago Board Options Exchange and a financial advisor.  He officially retired just a few months ago.  His hobbies included fishing, skiing, playing cards, traveling and was an avid handball player and member of the Union League Club of Chicago. 

He is also survived by his son, Jay (Kathryn) Pinney of Montreal, Quebec Canada, his daughter, Leslie (Robert) Abbey of Lancaster, KY and his daughter Amy (Bill) Schultz of Ventura, CA.  Jim and Carolyn have eight grandchildren: Michael Pinney, Lisa Pinney, Jessica (Jérémie Dupont) Pinney  and Jamie Pinney of Montreal; Terrica Pinney of Chicago, IL; Ryan Schultz of Los Angeles, CA, Renae Schultz and Jeanine Schultz of Rocklin, CA. 

He was preceded in death by his parents, Wilbur and Mildred Pinney and is survived by his brother, Jerry (Terri Gierke)Pinney  of Austin, TX and Janet Williams (Pat) Skauge of Commerce, TX. 

A celebration of life service will be held on Thursday, August 3rd at 10:30 am at The Orchard Evangelical Free Church, 1330 N Douglas Ave, Arlington Heights, IL  60004 with a family visitation and luncheon to follow.  Burial service will follow the luncheon.
Cemetery Details
Location
Arlington Heights Wheeling Township Cemetery
2250 E. Euclid
Arlington Heights, IL 60004