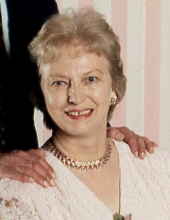 Obituary for Bertha Barboro
Bertha Barboro, age 85, of Arlington Heights, passed away on July 24, 2017 at the Lutheran Home. 

Bertha was born and grew up in a suburb of Montreal, Canada.  In 1954, she relocated to San Francisco and was employed in reservations for TWA.  While there, she met her future husband, Al Barboro, a naval officer stationed in San Diego.  They were married November 19, 1955 in San Francisco and first resided in Coronado, CA.  After Al's discharge in 1957, they moved to Al's hometown of Chicago.  In 1960, they moved to Arlington Heights.  For several years, Bertha was active in the Countryside Art Center, serving two terms as President.  She subsequently went to work for the American Egg Trade Association, traveling extensively as a meeting planner for twenty years.  She and Al were active ballroom dancers and also enjoyed traveling, tennis, and skiing.   

Bertha is survived by Al, three sons: Richard (Yamonee), David (Betty), Paul (Kimberly), and four grandsons. 

A memorial service will occur on Saturday, August 19, 2017 at 1:30 in the afternoon at St. John's Chapel in the Lutheran Home, 800 W. Oakton Street, Arlington Heights, IL 60004.  All friends and acquaintances are warmly invited.
Previous Events
Memorial Service
St. John the Beloved Chapel at Lutheran Home
800 W. Oakton
Arlington Heights, IL 60004